Market Analysis
Smart home industry or home automation is a fast-moving concept developing at a very steady phase. Delfin also added that the market share is high among the high net worth individuals (HNWIs) and IT hubs. Gujarat, Punjab, and NCR constitute a major market share under HNWIs and Coimbatore, Noida, Bangalore, Hyderabad and Pune constitute under the IT Hubs that are facing great growth in home automation systems. In India, it is estimated and proved that Pune is the top marketplace for home automation systems as it accounts about 15% of the entire market. Delhi NCR accounts about 13%, followed by Mumbai 12%, Hyderabad 9%, Ahmedabad and Bangalore 7% and Chennai 6% of the entire market.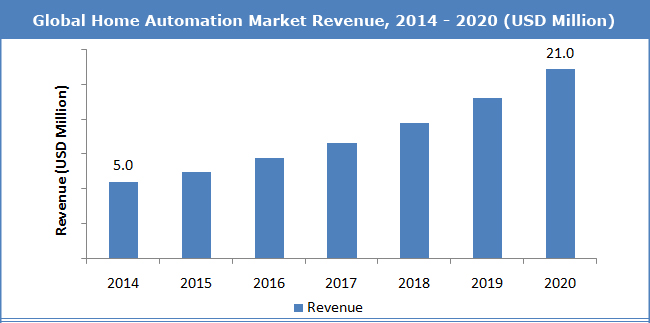 The home automation market in India is expected to increase INR 30,000 crore by the end of 2022. An analysis on this has been reported by Delfin- the leading home automation experts.
It is creating excellent opportunities both for Indian automation companies and foreign companies. In the present scenario, residential customers are preferring home automation systems more than commercial customers. The security products are a great hit in the market. Bangalore, Ahmedabad, Pune, Mumbai and Delhi NCR have combined to offer more than 50% of market share in the entire automation market.
The home automation system has four major functional segments like video and audio, security, light and heating, ventilation and air conditioning (HVAC) systems.
Home automation is a smart addition to your home. If you are a homeowner and wish to upgrade your home in a smart manner, home automation is an excellent option. Several technologies and products have become easily accessible and have made our lifestyle simple.
There are several benefits of including home automation systems
Security:
You just need to tap the fingers to turn the lights on or off. If you are worried of potential robbers, home automation systems completely make your worries at ease. The door locks with automation can increase the entire security of your home. If you are out of home and wish to know whether your kid has locked the main door of your home, you can just view and manage from your smartphone. Some products give you alerts when someone arrives at your home.
Energy efficiency:
The remote powering systems help in a great way to control energy usage. The products are actively monitored and the homeowner receives alarm notifications. It helps the homeowner to manage with guidance, insight, and knowledge to accomplish energy efficiency and greater control.
Savings:
The only investment you will be making for home automation is purchasing and installing the systems. It does not require other maintenance expenses in a later date. You can see a lot of savings in the first energy bill. You will be using home appliances and home systems only when you are in need. There is no need to waste your money on energy expenses unnecessarily after installing the home automation.
Convenience:
It is hard to depend on neighbors when you are away from home. When you have home automation systems, you can completely control your home at your fingertips. There is no need to trust someone to take care of your valued possessions.